Born in 1941 in Wesleyville on Bonavista Bay in Newfoundland. Blackwood studied at the Ontario College of Art and was Artist in Residence at the University of Toronto from 1969 to 1975. He is considered by many to be Canada's premier print maker and has been awarded many honors, including the Order of Canada in 1993. Although he currently resides in Port Hope, Ontario, his subject matter celebrates his maritime heritage. He views himself as a balladeer, and his ability to tell a story in visual images which has captivated collectors the world over. He has been honored with awards from the National Gallery of Canada, the National Gallery of Australia and the Montreal Museum of Fine Arts, and won the Norwegian Biennial Prints Award and the Biennale International De L'Estampe in Paris. In addition, he has had one-man exhibitions nationally since 1963, and his work is represented in many fine corporate and private collections across Canada and elsewhere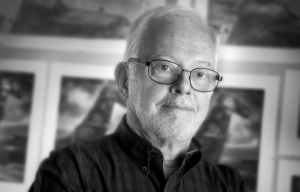 Are you considering selling your historical works?
We offer a viable and safe alternative to auction houses, eliminating the risk of devaluation when a work publicly fails to sell. We have no hidden fees and our transactions are dealt with the utmost discretion.
Exhibitions
Winter Contemporary Group Exhibition
November 18 - December 2, Toronto
Winter Contemporary Group Exhibition
November 18 - December 2, Toronto
The Gale and Henry Beaumont Collection: Selected Works
November 18 - December 16, Calgary
The Gale and Henry Beaumont Collection: Selected Works
November 18 - December 16, Calgary
Fall Contemporary Exhibition
October 14 - October 21, Toronto
Fall Contemporary Exhibition
October 14 - October 21, Toronto
Summer Selection, Featuring Recent Sculptures by Patrick Amiot
September 2 - September 9, Toronto
Summer Selection, Featuring Recent Sculptures by Patrick Amiot
September 2 - September 9, Toronto
Summer Selection
July 1 - July 22, Toronto
Summer Selection
July 1 - July 22, Toronto