A native of Ottawa, George Pepper studied for four years at the Ontario College of Art in Toronto (1920-1924) and then went to Italy and France to perfect his technique, notably at the Academie de la Grande Chaumiere in Paris. He lived first in Ottawa, then in Toronto where he began to teach at the Ontario College of Art in 1930. He became vice-principal of that institution in 1950. He enlisted in March 1943 as a war artist and served until June 1946. The themes of his paintings include anti-aircraft defences in England and troop training in western Canada. It was however in North-West Europe that he spent most of his time, painting the men and officers of the Second Canadian Infantry Division. After the war, he returned to teaching. He lived in Newfoundland and the Arctic, and in Spain in 1956. He was one of the founding members of the Canadian Group of Painters and was elected to the Royal Canadian Academy in 1956. He died six years later in Toronto, in 1962.
Available Artwork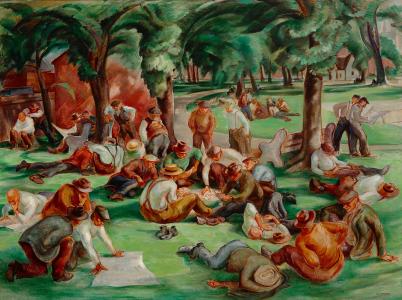 A Summer Day at Grange Park

Oil on Canvas
44.25 x 56 in
circa 1930
Price available on request
Are you considering selling your historical works?
We offer a viable and safe alternative to auction houses, eliminating the risk of devaluation when a work publicly fails to sell. We have no hidden fees and our transactions are dealt with the utmost discretion.
Exhibitions
Winter Contemporary Group Exhibition
February 3 - February 17, Toronto
Winter Contemporary Group Exhibition
February 3 - February 17, Toronto