Henry George (H.G.) Glyde
Henry George Glyde was significant to the development of art in Alberta, working in Calgary, Banff and Edmonton for over 30 years starting in 1935. He was born in Luton, Bedfordshire, England in 1906 and trained at the Brassey Institute in Hastings (where he first met his long-time associate Alfred Leighton) and later, at the Royal College of Art in London, where he graduated in 1930. In 1935, at the request of Leighton who had already accepted a post at the Provincial Institute of Technology and Art in Calgary (now, Alberta College of Art and Design), Glyde and his family moved to Canada and he joined the Art Department as a drawing instructor. From 1936 to 1945, Glyde pioneered the first community art courses in the rural centres of Vegreville, Lethbridge and Grande Prairie along with Walter J. Phillips. The two artists shared the teaching of all classes while continuing to paint and exhibit their own work. Glyde also taught at the Banff School of Fine Art from 1936-1967. In 1943, he and A.Y. Jackson were selected by the National Gallery to document the construction of the Alaska Highway. 2 years later, Glyde took over from Leighton as president of the Alberta Society of Artists and in 1946, moved to Edmonton to establish an art program at the University of Alberta. There, the artist served as the Head of the Art Department for 20 years. Glyde was elected to the Royal Canadian Academy in 1949 and traveled to Europe in 1958 upon being awarded a senior fellowship from the Canada Council for the Arts. Retiring in 1966, he moved to Pender Island, B.C. with his wife, where he continued to paint, eventually receiving an honourary doctorate from the University of Alberta in 1982. The artist died in Victoria at the age of 91. Glyde's work can be found in the permanent collections of the National Gallery of Canada, the Toronto Art Gallery, the Glenbow Museum and other public and private collections. He is known for his oil and mural paintings and his use of allegorical themes in his figurative and landscape paintings. By experimenting with texture and abstraction, Glyde created a distinctive reflection of Western Canada based on direct observation and interaction with its landscape and people.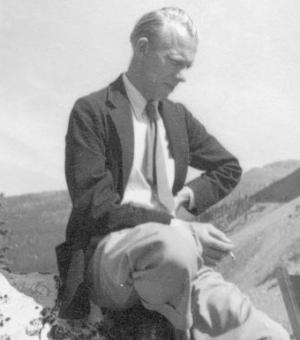 Available Artwork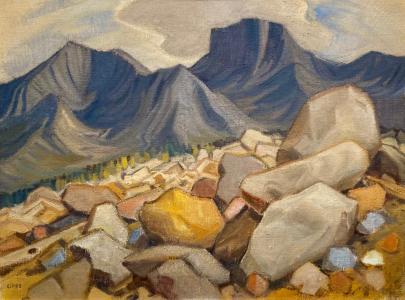 Massive Range, Near Banff, AB

Oil on Canvas
18 x 24 in
Price available on request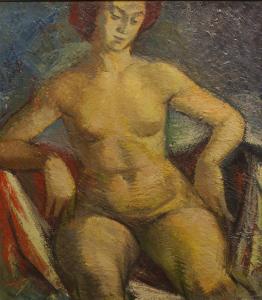 Nude

Oil on Canvas
34 x 30 in
1959
Price available on request
Rosebud, Alberta

Watercolour on Paper
13.5 x 15.5 in
Price available on request
Are you considering selling your historical works?
We offer a viable and safe alternative to auction houses, eliminating the risk of devaluation when a work publicly fails to sell. We have no hidden fees and our transactions are dealt with the utmost discretion.
Exhibitions
The Gale and Henry Beaumont Collection: Selected Works
November 18 - December 16, Calgary
The Gale and Henry Beaumont Collection: Selected Works
November 18 - December 16, Calgary
Artists of Western Canada: Historical and Post War
April 6 - April 22, Calgary
Artists of Western Canada: Historical and Post War
April 6 - April 22, Calgary