It seems to me that my art says all that needs to be said about my art. I think of it as being simple, direct response to my life, everything is familiar and recognizable. There are no obscure philosophical or psychological implications; I observe and I interpret. That's all there is to it. - Luke Lindoe, March, 1992
Bashaw was a beginning. It was 1913. He remembers that his father was absent. His mother, with her own agenda, moved in and out of his life. In her absences, he 'spent time' with relatives. Luke attended twenty-eight schools.
With no prospects for anything else, Luke took up homesteading ten or twelve miles south of Fort St. James. He spent six months building a chicken house, a shelter for two cows and two horses, and a small cabin. In October 1933 he moved in. It was his first winter alone. There was peace of mind for Luke, but no money and little food for himself or his animals. By spring, his animals were starving and, after a number of disastrous attempts to get feed, he loaded everything he owned into a wagon, tied on the cows and drove into Fort St. James. Disposing of everything, he hitched a ride to Vanderhoof and jumped a freight train east. Luke was celebrating his twenty-first birthday with eight dollars in his pockets.
Having located his father in Coleman, Alberta, Luke was introduced to mining. He worked at the coke ovens, shovelling coke ash, and then went underground as a hard rock miner. He helped his father study for engineering exams, even though his own formal education had stopped at grade ten.
Calgary played a pivotal role in his life. He studied at the Art Department of the Provincial Institute of Art and Technology (now known as the Alberta College of Art and Design.) He met his first wife Vivian while at the Institute, and returned to teach as the first ceramic instructor. They had two children: Allan and Carroll. His first major commission was for St. Mary's Cathedral, Calgary. While in Calgary, he established Lindoe Studios, which would later become Ceramic Arts. It was a particularly vital and pivotal period in his life.
Although he had romantic notions concerning the mountains, it was the prairies that became Lindoe's spiritual home. He moved to Medicine Hat in 1941, left and returned in 1957, left and returned yet again in 1990. He met his second wife Gail in Medicine Hat (their sons were Sebit and Simon). It is here that he establishes Plainsman Clays. The prairies and Medicine Hat acted as the backdrop for the most expansive and professionally active periods in his life.
Reference:
Carney, Linda. Come Walk With Me: A Luke Lindoe Retrospective. Medicine Hat: Medicine Hat Museum & Art Gallery, 1992.
Graff, Les. Luke Lindoe Retrospective. Calgary: Nickle Arts Museum, 1998.
Marion, Joanne. Luke Lindoe: Clay Pioneer. Medicine Hat: Esplanade, 2009.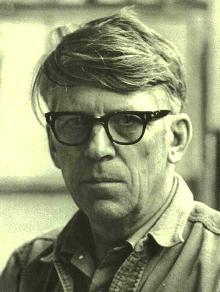 Available Artwork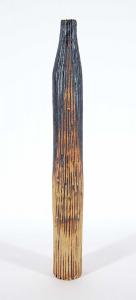 Modelled Branch Pot

Ceramic
19.75 x 2.5 x 2.5 in
circa 1974
Price available on request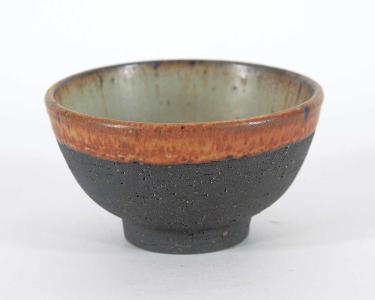 Untitled - Bowl (Black Brown)

Ceramic
2.5 x 4.5 x 4.5 in
Price available on request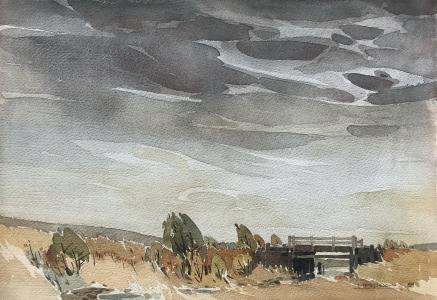 Bridge

Watercolour on Paper
14 x 20.5 in
1984
Price available on request
Are you considering selling your historical works?
We offer a viable and safe alternative to auction houses, eliminating the risk of devaluation when a work publicly fails to sell. We have no hidden fees and our transactions are dealt with the utmost discretion.
Exhibitions
The Gale and Henry Beaumont Collection: Selected Works
November 18 - December 16, Calgary
The Gale and Henry Beaumont Collection: Selected Works
November 18 - December 16, Calgary
Artists of Western Canada: Historical and Post War
April 6 - April 22, Calgary
Artists of Western Canada: Historical and Post War
April 6 - April 22, Calgary