Born in southern Manitoba, in 1951, Peter Sawatzky grew up on his family's farm in the Mennonite village of Sommerfeld. Taking advantage of a scholarship, Peter decided to attend the Commercial Art Course at Red River College in Winnipeg.

It was not until 1974, however, that Peter discovered his true interest which combined his fascination for bird life and for carving. A long list of awards and exhibitions won the artist international recognition and by the mid 80's, his success enabled him to make the important decision to work in bronze and to set up his own foundry in Manitoba.

Peter Sawatzky is a remarkably energetic and prolific artist who thrives on challenges. His passion for wildlife and the natural environment has given direction and focus to his career and as a result his subject matter incorporates a wide range of wild animals and people.

Indeed, the large scale outdoor sculpture entitled "Perilous Crossing" is a twenty-two foot life-size bronze boat with seven crewmen in the City of Selkirk in Manitoba. A large outdoor sculpture entitled "Seal River Crossing", situated at Portage Avenue and Main Street in Winnipeg, Manitoba, is a twenty-nine foot long heroic bronze of eleven caribou crossing a turbulent river commissioned by James Richardson & Sons Limited in commemoration of their 150th anniversary. Sawatzky has also completed four major public commissions for the city of Brandon, Manitoba, including a commemorative piece for the Chinese community. Peter was commissioned to create a ten and a half foot sculpture of James A. Richardson for the Winnipeg James Armstrong Richardson International Airport in Winnipeg. He recently finished a commission of five monumental wolves making two packs marking the Chief Peguis Trail in Winnipeg, Manitoba, referencing Chief Peguis's historical signature. Peter was commissioned to create a bust of Sir Winston Churchill, inspired by Churchill in his prime, as the new Prime Minister of Great Britain, and facing the beginning of the Second Word War. His latest installation was a 9ft tall standing Mother Polar Bear and Two Cubs installed at the entrance of the Assiniboine Park Zoo in Winnipeg, Manitoba. Newly announced Peter's work will be celebrated in a permanent Sculpture Garden opening in 2018 in Brandon, Manitoba!

As a winner of countless awards and numerous commissions in both Canada and the United States, Sawatzky has achieved a unique status in Canada's sculpture tradition and is collected widely.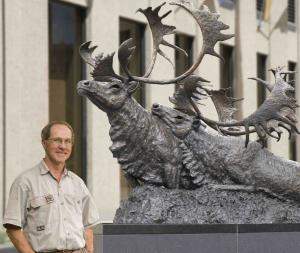 Exhibitions
Summer Contemporary Group Exhibition
July 28 - August 4, Toronto
Summer Contemporary Group Exhibition
July 28 - August 4, Toronto
Media
Peter Sawatzky: Born to Bronze