Represented by TrépanierBaer Gallery, Ron Moppett is a painter living and working in Calgary, Alberta. Born in England in 1945, he emigrated to Canada in 1957. Moppett attended the Alberta College of Art and Design in Calgary from 1963 to 1967, and the Instituto de Allende in Mexico in 1968.
Moppett is one of Canada's leading contemporary artists who is often at the forefront of advanced research in the field of visual arts. His practice is multidisciplinary slipping in and out of painting, which is at is foundation, into sculpture, drawing, printmaking and installation art. Moppett is interested in the edge between a real thing and the representation of a thing. Drawing inspiration from a variety of historical and cultural styles, he offers a diverse view of pop culture and a glimpse into the "dailiness" of life. A brilliant colourist, Moppett stencils and distills shapes with oil and acrylic paint, creating complex picture puzzles that hold multiple layers of meaning.
Ron Moppett's career includes a significant number of honours, exhibitions, publications and awards, including numerous Canada Council grants and the prestigious Gershon Iskowitz Prize in 1997. In addition to his painting practice, he has worked as a curator and a teacher. He has exhibited extensively throughout Canada, the United States, and Europe. Two major surveys of his work have been organized, one by the Walter Philips Gallery at The Banff Centre in 1982 and the other at Glenbow Museum in Calgary in 1990. In 2015 the Nickle Galleries organized Ron Moppett: SCULPTUR(AL) 1972 – 2015, a survey exhibition of his sculptural works. Moppett's work can be found in many prominent private and public collections including the National Gallery of Canada, the Musée d'art contemporain de Montréal, the Art Gallery of Alberta, Glenbow Museum, and the MacKenzie Art Gallery to name a few.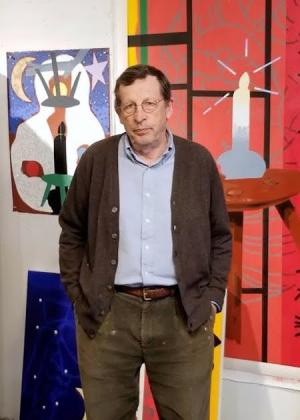 Exhibitions
Contemporary Group Exhibition | Featuring New Paintings by Valerie Palmer, Rebecca Campbell and W. David Ward
September 8 - September 15, Toronto
Contemporary Group Exhibition | Featuring New Paintings by Valerie Palmer, Rebecca Campbell and W. David Ward
September 8 - September 15, Toronto
FrAmEd: John Hall and Ron Moppett
September 8 - October 6, Calgary
FrAmEd: John Hall and Ron Moppett
September 8 - October 6, Calgary
Summer Contemporary Group Exhibition
July 28 - August 4, Toronto
Summer Contemporary Group Exhibition
July 28 - August 4, Toronto
Now and Then: Painters in the Canadian Rockies
June 2 - September 1, Calgary
Now and Then: Painters in the Canadian Rockies
June 2 - September 1, Calgary
Canadian Made | Contemporary Group Exhibition
May 26 - June 2, Toronto
Canadian Made | Contemporary Group Exhibition
May 26 - June 2, Toronto