Under the pen of William Kurelek, prairie farm scenes and landscapes came to life. By the time of his death in 1977, Kurelek had produced over 2,000 paintings. Kurelek was the son of Ukrainian immigrant farmers. He grew up during the Great Depression on a grain farm in Alberta, and then a dairy farm in Manitoba. While helping out on the farm, he enjoyed watching the sky, studying thunderstorms rolling in across the prairies or the changing patterns of the clouds. His hard-working father thought that his son was lazy, and was not pleased when he decided to pursue his studies in art. His father's rejection was to haunt him all of his life. Kurelek briefly studied art at school, but preferred to teach himself through books. While traveling in England, he was hospitalized for over a year and enrolled in the hospital's art therapy program. It was there that he drew many self-portraits and scenes of farm life from his youth. He also developed his unique style of outlining the drawing with a ballpoint pen, using coloured pencils for texture and adding details in pen. If you examine his drawings, you will notice that they are full of realism with minute details of things like cots, clothes and even insects. Many of Kurelek's painting were produced to accompany books for children. For these he won several awards, including the New York Times's Best Illustrated Children's Book Award for A Prairie Boy's Winter and Lumberjack, and the Canadian Association of Children's Librarians Illustrators Award for A Prairie Boy's Summer.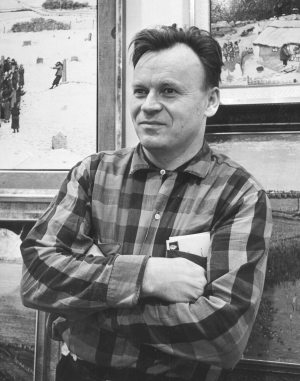 Are you considering selling your historical works?
We offer a viable and safe alternative to auction houses, eliminating the risk of devaluation when a work publicly fails to sell. We have no hidden fees and our transactions are dealt with the utmost discretion.
Exhibitions
Fall Historical Collection
September 22 - October 6, Toronto
Fall Historical Collection
September 22 - October 6, Toronto